Last Friday night Marcia and I flew into Brisbane from Cairns for a long weekend of relaxation and fun, not expecting to end up at a Swingers Party.
Whilst we had discussed going to a swingers party in the past, it hadn't crossed our minds until a couple of drinks after we had checked into the hotel when we discussed the idea of trying to find a swingers party close to the Brisbane CBD. It was already going on 7pm so we knew that if it was going to happen we needed to act now.
Previously Marcia had met a couple from Brisbane through a mutual friend, whom she knew were Swingers but they had no idea we were open to the idea of going to a swingers party with them.
I suggested that Marcia send her friend Christina an email to let them know we were in town and to see what they were up to. Not really expecting to get an immediate response, we were surprised when an email came right back saying that they were only just down the street having dinner and asked if we would like to meet at the bar in about an hour.
We quickly got showered and dressed and in less than an hour we were sitting at the bar where we were to meet David and Christina.
Marcia looked hot, in her little black skirt and the highest of heels that were usually reserved for the bedroom only. I could tell that she was getting really excited and was looking forward to letting her hair down.
We arrived at the bar in a little under 1 hour— I had never laid eyes on these people before and I was pleasantly surprised when we were greeted with open arms by a very nice, bubbly, well groomed couple whom were obviously into enjoying life.
Christina a beautiful Thai girl, around 35 was wearing a very sexy short, short dress, obviously out to get attention which was working. David on the other hand, whilst a really nice guy was at least 30 years her senior… Which I must admit seemed a little weird. You could tell they were very close, so no doubt David was able to make it up in other areas other than the bedroom.
Still not knowing that Marcia and I were open to the idea of at least checking out a swingers party, after our 2nd drink David said that they were on there way to their favourite swingers club and asked if we would like to come with them… He quickly pointed out that whilst it was a swingers party, there was no obligation to participate, we obviously said yes and that's how the night began.
Whilst it wasn't set in stone that we were actually going to participate, I could sense that Marcia was as horny as hell… and I knew it was game….
I must admit it seemed a little weird thinking about watching my wife being taken by  complete strangers. It was all good fun fantasising about it back at home in the bedroom, in a real life situation it makes you sit up and think and ask oneself a few deep and meaningful questions…
We had another couple of drinks and then caught a taxi to to the venue where the swingers party was being held, which turned out to be 5-star hotel, just a mile or so down the road.
On the way up in the lift, I slipped my hand up Marcia's skirt to find that she was not wearing panties which was normal anyway but what did surprise me was that in anticipation of what might happen, her love juices were already well and truly flowing… she reached around with a sexy smile, winked and grabbed a hold of semi erect partner in crime and said "I wanna be a slut tonight."
David and Christina obviously knew the hosts well and likewise most of the other couples who were there. This being the case we were welcomed with open arms. We had no idea what types of people might attend Swingers Parties and i've gotta say we were pleasantly surprised. There were about 20 people (all couples) ranging in ages from 30 to 60.
There was a lot of laughing and flirting going… the girls all looked great in their raunchy attire. We both felt really comfortable and made a deal that if either one of us felt uncomfortable, we were out of here.
I could see many eyes were glaring at Marcia, not necessarily because she looked very fuckable but no doubt because she was the new girl on the block! Whom I might add is a very hot, fit, well proportioned, 40 year old… She looked especially hot tonight because she was glowing in anticipation of what might happen.
Surprisingly we were very relaxed and felt at home immediately, it's always nice hanging with friendly like-minded people, just that in this instance we were at a swingers party.
I noticed Marcia knocking back the champagne a little faster than normal… She knew what was going to happen and I guess she was just plucking up enough courage.
Christina was becoming increasingly friendly as she and Marcia were going drink for drink. David was mingling with others not worrying about his wife whatsoever as she flirted with almost everyone there.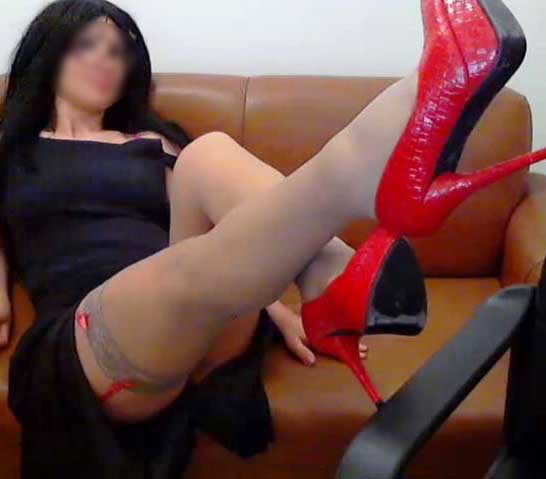 Marcia, whispered in my ear and said "What do you reckon… Are you OK with this?" By this stage the captain was almost bursting out of my pants, not so much because I wanted to get it on with others but more so because the thought of watching Marcia getting fucked by someone else turned really me on… Nervously… turned me on I might add.
Without notice, Marcia grabbed my hand and lead me to the hallway, she lifted her dress and said "look I am so wet, i'm dripping wet she said" I grabbed her pussy and it was if several guys had already blown their loads up her because she was saturated down there.
Marcia reached down and undid my zipper and said "I want to fuck you first." Without hesitation, she kneeled down and started sucking my cock. I knew that If did control myself it will be all over red rover in no time. The next thing Christina walked up on us and kneeled down beside Marcia and started sucking on my balls…
After about 5 minutes of this, I knew I was about to blow and decided to just stand there and enjoy the moment but Marcia also knew… and said "I want you to cum inside me." At this point I was ready to explode… She lay down, still in the hallway. Lifted her tight mini skirt up around her waist— and without hesitation, I plunged deep inside… I blew almost immediately, deep inside her soaking wet pussy.
We lay there for about 30 seconds when we realised there were about 10 others watching… A couple of guys were standing there playing with their erections, hoping that it would be their turn next.
Marcia lay there and before she had time to sit up, Christina went down on her, licking up and enjoying the taste of Marcia's sweet pussy juice. Next thing you know, John kneeled down and mounted Christina from behind while she had her face buried in Marcia's crouch.
Fuck this was great I thought to myself… best party ever….
John was hung like a fucking donkey but Christina didn't seem to mind as she backed up asking for more. Sally, John's partner went to the front of the cue so to speak and knelt down so that Marcia could get a taste of her pussy.
Marcia and I had never discussed any fantasies about girl on girl but without giving it a thought Marcia began pleasuring Sally with tongue. I could see that John was close to blowing his load when he stood up, grabbed Marcia by the hand and lead her back to the lounge.
Marcia caught my attention and whispered "Are you OK?" "Yes" I said.
Marcia lay spread eagle on the couch for all to see her beautiful waxed, cum filled pussy. John kneeled for a taste of Marcia's nectar… before he pushed Marcia's legs back as far as they would go before sinking his monstrosity deep into my beautiful wife's pussy.
Much to my surprise, Marcia had no problems accommodating John as he pounded her to orgasm. Shortly thereafter John pulled out and then blew his load all over Marcia's pussy and stomach. By this time I was ready to go again but decided it was time to let Marcia regain her breath and have a drink.
Whilst we were enjoying our drink, chatting with John and Sally Christina lay down on the couch with her legs in the air. She was surrounded with 4 guys who had all obviously fucked her before. David stood there watching and taking photos of his wife getting laid.
To cut a long story short we had a great night, a night we will never forget. Marcia in total was pleasured by 3 other guys and ended up fucking 2 girls and Marcia again.
We have already discussed doing it again and doubt will attend another swingers party some day soon.
In closing… "Is swinging for everyone?" Who knows I guess this something you decided to do as a couple prior. Note that by attending a Swingers Party you are in no way obligated to participate if you don't want to.
Will keep you updated….
If you are looking for a swingers and or swwingers parties in your area check out Adult Match Maker – Australia's #1 Swingers Website